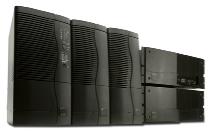 On-line double conversion topology
Definition:
AC to DC and DC to AC (double conversion) of the utility power

A continuously running rectifier/charger and inverter in the primary power path

No voltage drop out or transfer time associated with the inverter

All circuits are always operating at full power before and after power line failure

Independent output & input voltage
Benefits to the customer

The UPS doesn't only run during power outage. Whatever the power line quality, the UPS operates continuously to provide pure power (perfect sineware in output).On-line double conversion technology meets highly critical equipment requirements for running applications 24h/day, 365 days a year.
High performance
Very wide input voltage window from 84 to 264 V without using batteries.
If you use up to 50% of the UPS output load capability, you can select 84V, 66% of the UPS output load capability, you can select 120V, 100% of the UPS output load capability, you can select 160V to 265V.
So perfect adjustment to distorted and poor electrical network. Battery is less used, battery life duration is increased.
High tech battery charger

2 hours to recover 80% backup time after a complete discharge of the battery

long battery lifetime since battery management takes into account battery manufacturer parameters, ambient temperature and aging

deep discharge protection to avoid battery destruction

Efficiency (output watt/input watt) :
Backfeed protection device is on the bypass line.
High availability and reliability
High availability

Cold start : you can start your equipment even if utility power is down

Automatic by-pass in case of overload or UPS fault. Your application keeps on running

The electronics and battery modules are hot-swappable

High reliability
Scalability
Comet Extreme supports the customer up to 12 kVA

The customer can add extended batteries whenever it needs
Overload capabilities
Advanced communications
1 RS232/U-Talk port

2 additional communication slots for SNMP card, 2 RS232 U-Talk or Basic (volt-free contacts) ports, RS232 or RS485 Jbus/ModBus, 6 relay contacts 250V 2A, USB, 2 RS232 COM ports (HID protocol), 2 AS400 (volt-free contacts) or/and remote shutdown ports

Solution-Pac (certified "Unicentered bronze" by Computer Associates) for local or remote administration

UPS-driver to customize the UPS parameters
Customizable parameters via UPS-Driver

Conditions on/off

Automatic start (on/off). When the power comes back, the UPS switches on or remains off.

Cold start (on/off)

Shutdown of the UPS via software (on/off)

Sleep mode (on/off). If there is no load or very small load, the UPS will switch off to protect batteries

Battery

Automatic battery test (None/everyday/once a week/once a month)
Low battery alarm (select up to 99%)

Output/Input

Output voltage rating (up to 12 kVA)

Frequency (50/60hz)

Voltage window to remain on the main without using battery (84/120/160 to 264V)

Overload alarm (up to 12 kVA)

Restart after a shut circuit (on/off)

Bypass

Threshold to automatic by-pass (min and max)
Return on Investment
Our philosophy is the protection doesn't have to account for more than 10% of the protected equipment ; we've done it with Comet Extreme

You avoid any expensive stop of the server : redundant and a few modules to avoid the multiple points of failure

The space is expensive, Comet Extreme uses a small room : 8 U for 6 kVA with 9 minutes of back-up time, 13U for 12kVA with 9 minutes of back-up time

You will save up to 15% in your electric bill via :

the input power factor correction that enables Comet Extreme to take only the power that it needs from the utility

the efficiency of Comet Extreme : 93%

A new charger for a longer battery life duration

You pay only for your need : you can customize your solution
Extremely easy...
... to install

... to use

... to order